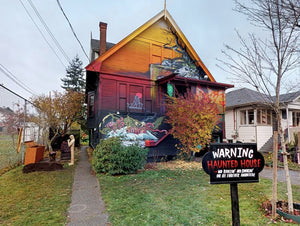 Wasteland Climate Anxiety
This is by far one of the coolest things I have been a part of since moving to Victoria. This project came to life in less than 3 weeks, I am blown away.
It's a pre-demolition house turned pop-up experimental art exhibition, all themed around climate anxiety. Over 30 local artists of all kinds, and I AM ONE OF THEM! This project has been getting some press and can be seen in multiple news outlets, including CTV news!
I worked with 3 other artists to create the Forest Fire room on the second floor. You can read my bio on the Wasteland Climate Anxiety website. You can also donate to the cause on this Go Fund Me page. 
There is a Facebook Event for those in Victoria, you can come check it out this weekend- November 15-17 2019! There are live performances and tons of cool art to check out. If you are not in Victoria, check out this awesome 3-D rendering of the house below! 
---